Digital communication technology in healthcare is transforming how doctors see patients and how patients communicate with their care providers. Digital healthcare communications enables new and better models of care by using tools like video conferencing for a virtual house call. The healthcare models of the future will increasingly use video conferencing, voice, messaging, and more, integrated into a unified structure that will change the business of medicine.
Unified Healthcare Communications
Healthcare organizations are like any other business; they invest in new tools to increase workforce productivity and improve the "customer" (i.e., the patient) experience. Real-time digital healthcare communications tools can help clinicians work from anywhere with these secure, cloud-based, HIPAA-compliant technologies.

Unified healthcare communications, more commonly called unified communications-as-a-service (UCaaS) transform how providers serve their patients in the cloud. These platforms can bring together digital healthcare communications in a way that improves real-time collaboration and productivity within a medical practice. Ultimately, unified healthcare communications can improve the patient experience and even the quality of care.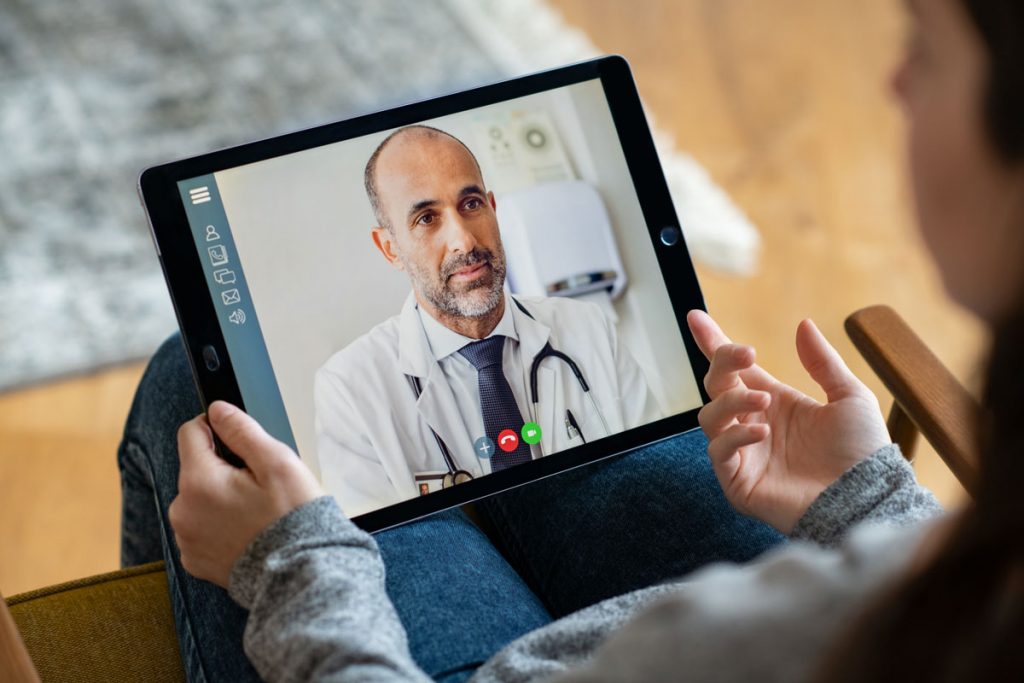 UCaaS combines voice, video, chat, conferencing, messaging, and call recording, along with the ability to send secure files over the internet, via one secure cloud-based provider. Because these tools are integrated, they form the backbone of a communications hub. The alternative is a series of patchwork providers that offer these services separately. These silos often do not communicate efficiently with each other and thus create workflow redundancies that make the end-users less efficient and productive than they should be.
In healthcare, instant communication is critical to the quality of care. Unified healthcare communications are the future of healthcare. Hospitals and clinical practices use these tools today to streamline the efficiencies of their teams.
The benefits of using this type of communication technology in healthcare include:
UCasS connects mobile teams: Healthcare teams are increasingly mobile. This includes home health aides driving to a client site and doctors providing a telemedicine consult via video, to private practices spread across a dispersed network of locations. Today, communication technology in healthcare is increasingly necessary to bring everyone together no matter where they are working. Unified healthcare communications platforms allow teams to message each other from the same platform. With VoIP, on-call doctors can forward calls to wherever they may be. They can access many of the same features found in a PBX, from call recording and auto attendant to call queue management, and much more. These solutions can integrate with other standard office tools.
UCaaS can increase office productivity: EHR Intelligence reports that inefficient IT platforms cost hospitals $8.3 billion a year. They also share that 52% of doctors express a great deal of frustration with the pager technology that many of them still use to communicate. Just trying to communicate with patients and staff should not be so ineffective and costly. Ineffective communications can slow everything from bed turnover in hospitals to providing test results or efficient appointment setting. This lost productivity has consequences that impact patient care.
Unified healthcare communications can improve the patient experience: Digital healthcare communications can save lives. Adding real-time communications allows healthcare teams to respond more quickly to unpredictable or changing conditions and any crises that occur. These tools can even improve data entry on the backend; the data shows us that clinicians spend 43% of their time doing data entry, compared to spending just 28% of their time with patients. But today we can use texting, send emails with secure links to test results, refill prescriptions online, use video conferencing for virtual visits, and more.

By using unified communication technology in healthcare, we can keep our fast-paced clinical teams collaborating, communicating, and saving lives. These tools improve the patient experience by giving them connectivity to their preferred providers and the critical treatments they provide.
Enable video conferencing for virtual encounters. Telemedicine, or the use of telecommunications tools for clinical encounters, brings doctors and nurses directly to the patient in the comfort of their home by using secure video conferencing. There was an explosion of telemedicine visits in 2020. The Center for Disease Control (CDC) says telemedicine visits increased by more than 150% last year. Widespread access to broadband technology along with a social distancing mandate spawned by a pandemic elevated telemedicine into more homes and more medical practices than we've ever seen in the past.

Patients can now video conference with their clinician and receive a faster triage of their condition without the need to drive to a traditional office. Given a number of trends in healthcare, it is widely believed that secure video conferencing will only increase until it becomes the normal type of clinical encounter that most patients and providers expect.
Digital healthcare communications in the cloud can improve your call center response. With cloud-based VoIP, healthcare organizations can disperse their call centers, allowing billing or customer support to work from home while still responding to patients. Central scheduling can also become dispersed, or it could stay within a call center setting while avoiding many of the expenses associated with traditional landline-based phone communications.

Today, patients want to do more than call; they also want to text and email, and they demand the same kind of coordinated response that they would get from any business. A UCaaS platform can build a whole new type of healthcare contact center in the cloud where patients can text, chat in real-time, email, or call, and can switch back and forth as needed. Even better, UCaaS can integrate with common patient platforms in healthcare to record these conversations. Today, your patients want an omnichannel experience with their healthcare provider, and UCaaS is your integrated resource to give your customers exactly what they want.
UCaaS can bring global teams together. UCaaS digital healthcare communications can bring together a global healthcare continuum of providers. This could speed up collaboration on new treatments, coordinate services, and share information in new ways. The global pandemic has been an important case study for how a more unified healthcare communications model could help providers improve their collective response to the virus outbreak. Better communication technology in healthcare could improve the distribution of the vaccine and potentially save more lives.
Healthcare, like all industries, is changing rapidly. Digital healthcare communications are the next wave of customer-centric, intelligent communications tools that your organization will need to remain competitive. Infinite Connect offers healthcare providers a UCaaS product that can help prepare you for the future of digital communications. Call on us today to find out more.